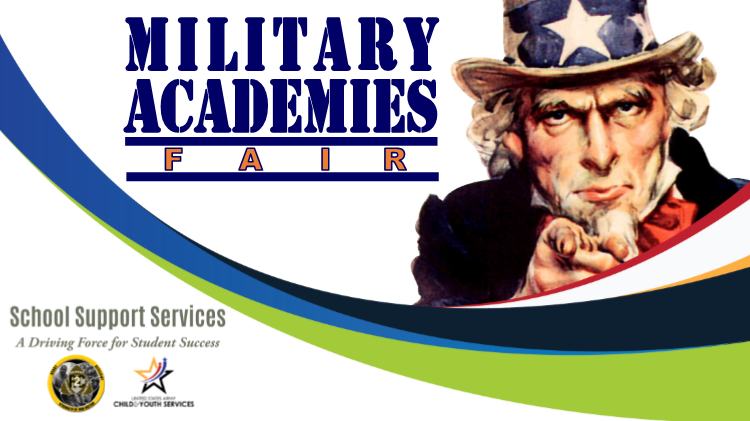 Note: This event has already passed.
Date: Oct 25 2018, 5 p.m. - 7 p.m.
School Support Services / Gerhard V. Guevarra - Family Readiness Group Center Google Map
Fort Bragg Child and Youth Services is hosting the 11th Annual Military Academies Fair. This is a college fair that features only the service academies, Military colleges, corps of cadets schools, and representatives from post-secondary ROTC programs.
Confirmed School Attendees (Updated October 19, 2018):
US Military Academy (West Point)
US Naval Academy
US Air Force Academy
US Coast Guard Academy
Virginia Military Institute
Norwich University Corps of Cadets
Virginia Tech Corps of Cadets
University of North Georgia Corps of Cadets
Georgia Military College
Valley Forge Military Institute
New Mexico Military Institute
Army ROTC
Air Force ROTC
Navy ROTC
Target Audience: Local High School Students and their families
Intention: Provide information about attending a service academy, Military college, corps of cadets school, or a post-secondary ROTC program.
When: Thursday, October 25, 2018, 5-7PM
Where: Family Readiness Group Center, Fort Bragg/Pope Field, BLDG 236, Interceptor St.
Why: Fort Bragg is the home of the 18th Airborne Corps, 82nd Airborne, Special Operations Command, FORSCOM and ARCOM. The military footprint in the local community is large and there are many high school students considering pursuing post-secondary education military service.
Cost
Free and open to the public
Registration Info
Registration is not required.
Contact