50th Annual 4th of July Celebration
50th Annual 4th of July Celebration
Note: This event has already passed.
The 4th of July Celebration is held annually at the Main Post Parade Field. Activities include some of today's hottest musical acts, parachute free-fall demonstrations, our popular flag ceremony, fireworks, and food and beverages. Pets, glass bottles, and BBQ grills are not allowed. For a full list of prohibited items, see our prohibited items lists, under "General FAQs/Information". All tents and shelters must be erected in the designated tent area, space is limited. Attendees are encouraged to arrive early due to heavy traffic flow. The event is free and open to the public.
Help us keep the parade field clean! Bring a trash bag to pick up your trash.

Musical Headliner: 3 Doors Down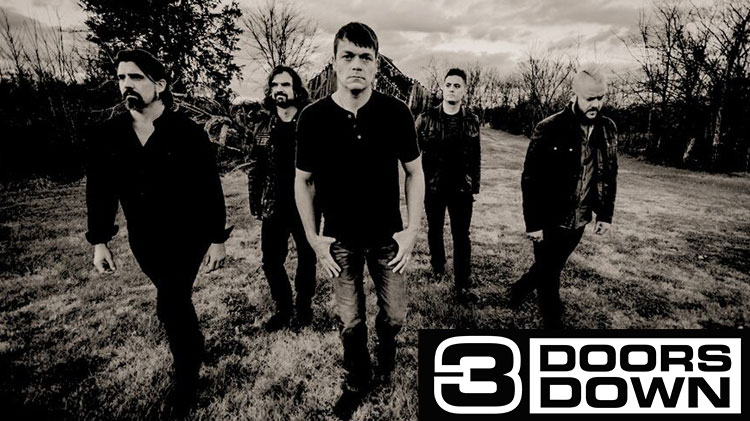 ​
Opening Act, The Fifth

​
Event Layout, Parking and Vendor Menus
Sequence of Events
1:00 p.m. Doors Open

3:00 p.m. Event Begins - Kiddie Land Opens

4:30 p.m. 82D ALL-AMERICAN ROCK BAND in Concert

5:45 p.m. Parachute Demonstration

6:00 p.m. Flag Ceremony

6:45 p.m. THE FIFTH in Concert

8:30 p.m. THREE DOORS DOWN in Concert

9:45 p.m. Fireworks Display
General FAQs/Information
Non-DoD ID Cardholders will not be able to access the base for this event, prior to 12 p.m. on July 4, 2019.
Q: What time can I set up my tent/blanket?
A: No one will be allowed to access/set-up on the parade field until 1 p.m. Please keep in mind that staff will be unable to watch your belongings. Also, tents are only allowed in the designated tent area; space is limited.
Q: What time does everything start? Will I be able to purchase food and drinks before then?
A. Kiddieland and food are open for business beginning at 3 p.m., however, some vendors may be open prior to then.
Q: What kind of activities are there for kids to do?
A: There is a Kiddieland full of bounce houses (suggested ages 2-16), slides and a rock climbing wall. Admission is $10 per child and unlimited use is included in the price. Kiddieland will be open 3-8 p.m. Last wrist band will be sold at 7 p.m.
Q: I am a food vendor, how can I participate in this event?
A: We are at capacity, and are no longer accepting applications.
Prohibited and allowed items at this event:
- View the 4th of July Celebration Prohibited Items/Bag Policy (.pdf)

Requirements for Special Event Access:
- Patrons & Visitors are directed to specific gate(s) where security measures will be conducted prior to entrance onto the installation. Chicken, All American, Randolph, Longstreet ACPs.
- All non-DOD personnel 18 years and above are required to present a valid state photo ID.
- All motor vehicle operators are required to present a valid Drivers License, registration, and proof of insurance, regardless of age.
- Vehicles are subject to a 100% search before being allowed access to the installation.
- Upon the completion of the event, all special event guests are required to depart the installation in a timely manner.
Tent City FAQs/Information
Q: When will you begin taking reservations for the designated tent area and how much will they cost?
A: Tent City sales will open at noon on Monday, June 17, 2019. Sales are only available through WebTrac.*

Tent City Layout Map (.pdf)
Prices:

$40 for a 10'x10' space with Family & MWR canopy provided
$20 for a 10'x10' space

Q: Do you have to be a DoD ID Cardholder to rent a space?
A: Yes, you will have to verify your DoD ID at check-in.
Q: If something comes up and I can't make it, can I get a refund?
A: No refunds will be issued for tent sites.
Q: What time can I check-in and set up my tent?
A: Check-in will start at 1 p.m., when the parade field opens.
Q: What size of tent can I set up?
A: The space reserved will allow for one 10'x10' tent or smaller.
Q: What am I allowed to bring to my tent space?
A: Please see the prohibited items lists above, in the section titled "General FAQs/Information".
Q: What are some suggested items that I should bring?
A: Bring enough stakes to secure your tent. We have had wind gusts at past events.
Tent City spaces are not vendor spaces. Anyone using these spaces to vend or promote any type of goods will be turned into the MPs and charged with the misuse of government property for personal gain.
* If you are using a mobile device to make your reservation, please follow these steps:
Select "Back to Full Site"
Click on the ticket that says "Admit One", under the "July 4th Tent City" heading, located in the bottom right hand corner. This will take you to the purchase page.